Over Royalty
In Royalty leest u de ins en outs van de Europese Vorstenhuizen. Royalty expert Marc van der Linden brengt u op de hoogte van de liefde, (klein)kinderen en de nieuwste mode van de Europese Vorstenhuizen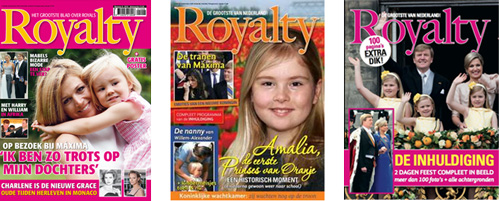 Klantenservice Royalty
Voor vragen en opmerkingen over lopende abonnementen kun je het best direct contact opnemen met de uitgever van Royalty. Dit betreft bijvoorbeeld het stopzetten of opzeggen van een abonnement, betalingen (cq. incasso's) en het doorgeven van verhuizingen en bezorgklachten.
De contactgegevens voor Royalty:
Audax Publishing
0900–2265263
Mocht jouw vraag of opmerking een bestelling via Abonnement.nl betreffen, aarzel dan niet om contact met ons op te nemen.
Bekijk hieronder de actuele aanbiedingen. En kies jouw Royalty abonnement.
Royalty cadeauabonnementen
Cadeauabonnementen stoppen altijd automatisch.
Dus geef nu een abonnement op Royalty cadeau. Voor een verjaardag of een andere feestelijke gelegenheid. Of zomaar, omdat iemand het verdient of goed kan gebruiken.
---
---
---
---
---
Ik heb Royalty aan mijn moeder gegeven omdat ze het graag leest.
mijn moeder is 81 jaar en vindt het geweldig om alles te weten over het koninklijk huis.
Marijke Engelse
22-01-2014
Fijn blad met veel informatie en foto's over koninklijke huizen!
Ik heb mijn moeder cadeau abonnement Royalty gegeven omdat mijn moeder gek is van het koningshuis.